This chicken pizza bake recipe is a meal that's easy to prepare and extremely delicious. It will definitely be the centerpiece of your dinner tonight!
The "easy keto pizza chicken bake" is a recipe that is easy to make and low in calories. It's also gluten-free and can be made with almond flour or coconut flour.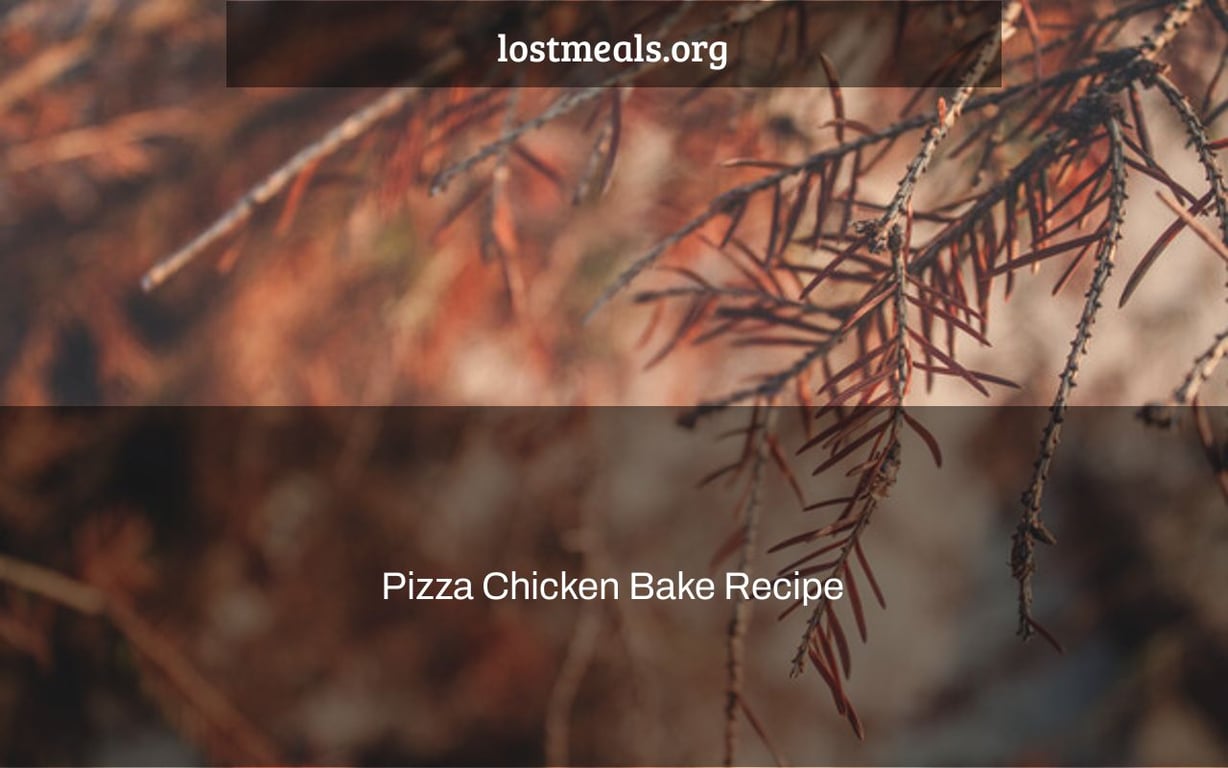 This Pizza Chicken Bake is a simple evening main dish recipe for pizza-style chicken meals. If you leave out the breadcrumbs, you'll have a fantastic low-carb, keto main meal.
All of the textures and tastes of a pizza are combined with the protein of chicken breast. Ideal for picky eaters. You may also alter the topping to your liking.
This dish will become a staple in your midweek meal rotation. Cheesy, tomato-packed, and herb-infused… What's not to like about that? It's budget-friendly, family-friendly, and easy to prepare. Check out the recommendations below.
Ingredients for Pizza Chicken Bake
We used chicken breasts, but turkey or chicken thighs would also work.
Whole milk should be used.
If you're creating a low-carb recipe, leave off the breadcrumbs.
Use store-bought or prepare your own tomato sauce.
Use parmesan and cheddar cheeses.
Pizza Chicken Bake Instructions
Prepare the chicken breasts by marinating them in milk for 30 minutes. Meanwhile, combine breadcrumbs, grated parmesan, salt, and pepper to produce the breadcrumb mixture. Cook the cutlets for 20 minutes after coating them with breadcrumbs.
Make the sauce in the meanwhile. After 20 minutes, remove the chicken breasts from the oven. Remove it from the oven, cover it with the sauce, and cook for another 5 minutes.
Easy Pizza Chicken Bake Recipes
Butterfly the chicken breasts and fill them with mozzarella and pepperoni for a fun twist. Continue with the recipe.
Cover the chicken breasts with the breadcrumb mixture, wrap them in plastic wrap, and keep in the refrigerator. Before serving, bake. You may also prepare the tomato sauce ahead of time and keep it in the refrigerator.
Use marinara sauce from a jar. In a blender, puree canned tomatoes until smooth, then use instead of tomato sauce.
Other toppings, such as wilted spinach, sautéed mushrooms, or sundried tomatoes, are optional.
Replace the tomato sauce with BBQ sauce and top with pineapple for a BBQ chicken pizza.
Pizza Chicken Bake: What To Serve
Serve with roasted low-carb vegetables (such as zucchini noodles) or greens. Serve over a bed of mashed potatoes or with a side of roast potatoes if you're not on a low-carb diet.
How to Keep Pizza Chicken Bake Fresh
Keep the leftover pizza chicken bake in the fridge for up to 3 days (in an airtight container). Bake or microwave to reheat.
You Might Also Enjoy These Recipes
Instructions
Step 1
Step 1
Soak the chicken breasts in milk overnight. Allow at least 30 minutes for marinating.
Step 2
Step 2
Soak the chicken breasts in milk overnight. Allow at least 30 minutes for marinating.
Season breadcrumbs and grated parmesan with salt and pepper in a mixing bowl.
Step 3
Step 3
Using breadcrumbs, coat the cutlets.
Step 4
Step 4
Season breadcrumbs and grated parmesan with salt and pepper in a mixing bowl.
Cook for 20 minutes in a preheated oven at 180°C/360°F.
Step 5
Step 5
Season tomato sauce with salt and oregano in the meanwhile.
Step 6
Step 6
Using breadcrumbs, coat the cutlets.
Remove the cutlets from the oven. Top each cutlet with seasoned tomato sauce and shredded cheese.
Step 7
Step 7
Return the pan to the oven for another 5 minutes. Serve right away.
Notes
Other meats, such as pepperoni, ham, cooked bacon, or Italian sausage, may be added to make the dish more meaty.
This recipe for "pizza chicken bake tasty" is a great way to use up leftovers. This pizza chicken bake is low in calories and high in flavor.
Related Tags
pizza chicken recipes
pizza chicken casserole
pepperoni pizza chicken bake
best pizza chicken recipe
pizza chicken thighs