These scallops are so good they're almost sinful, and the garlic cream sauce makes them taste like something you'd get in a fancy restaurant. The one-pot prep saves time and will please even picky eaters too!
The "keto scallops in cream sauce" is a low carb dish that has a creamy garlic sauce. The best part about this recipe is it's easy to make and only takes 15 minutes to prepare.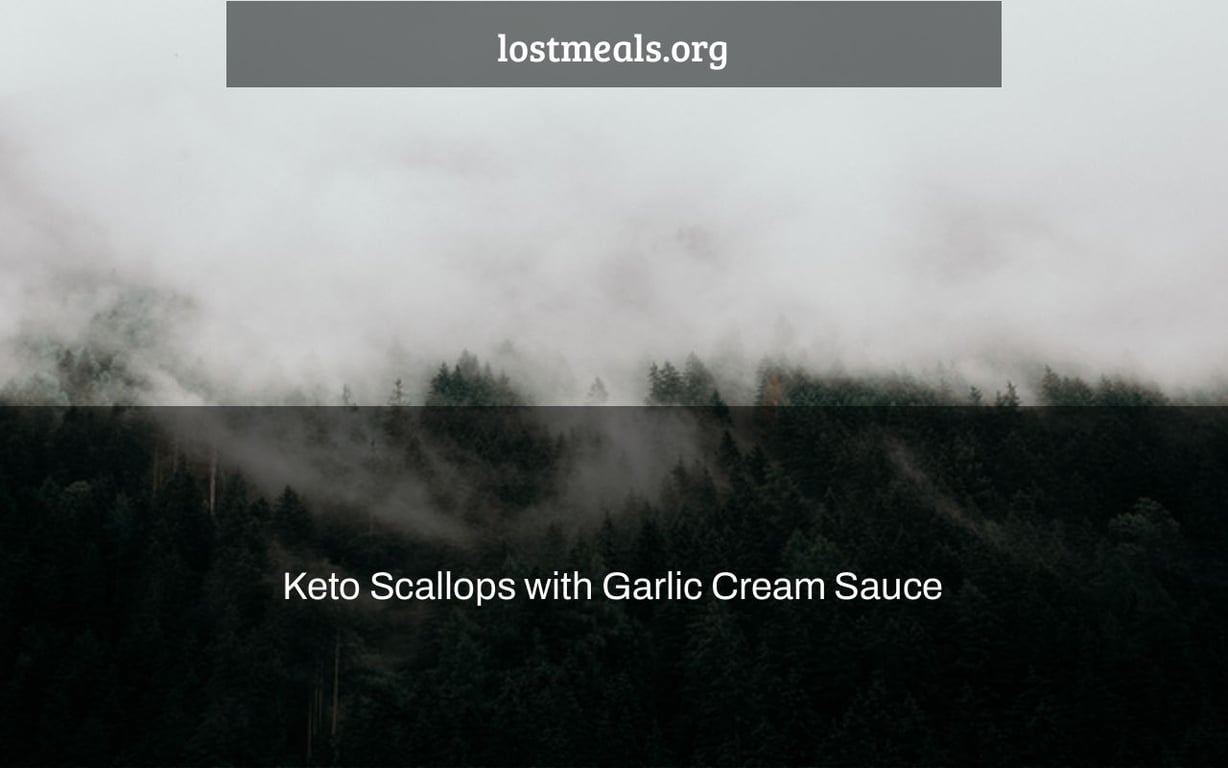 Go to the Recipe
This keto scallops dish is the finest I've ever tried! The golden-brown crust, basic but tasty flavor, and creamy sauce are all excellent on these scallops. These scallops are ideal for a fast two-person supper or even a party.
These keto scallops may be served in a variety of ways. They go well with cauliflower rice, broccoli puree, sautéed kale, and roasted cabbage steaks, to name a few. The nicest thing about this seared scallop dish is that it just has 4 grams of carbohydrates per serving.
Another reason I appreciate this keto meal so much is that it doesn't take long to create these scallops and doesn't need a lot of Ingredients. These scrumptious scallops with the extremely wonderful garlic cream sauce need just five key Ingredients and take around 15 minutes to prepare.
Contents Table of Contents
Are Scallops Keto-Friendly?
Yes! When you're on a keto diet, scallops are a delicious option. Scallops are heavy in protein but low in fat, which is why it's ideal to serve them with a buttery sauce.
What Are the Flavors of Scallops?
If you've never had scallops before but appreciate seafood, I'm certain you'll enjoy them. Scallops cooked in this manner have a flavor that is extremely similar to clams and oysters.
They have a somewhat nutty flavor that is comparable to that of almonds in general. They have a texture that is soft and chewy, comparable to crab flesh.
Here's What You'll Require
You'll only need a few basic items to prepare these keto pan-seared scallops with garlic cream sauce. Here's everything you'll need to make this keto recipe:
Scallops – it doesn't matter whether you purchase fresh or frozen scallions. However, if you purchase frozen scallops, you must defrost them first before cooking. The easiest method to do it is to put them in a colander and rinse them with cold water every now and again.
If you don't want to use butter, you may use olive oil or coconut oil. However, I still advocate using butter for this dish since it enhances the flavor of the scallops.
Garlic cloves – omit this item if you don't like garlic. But let me tell you something: when you cook these keto scallops with garlic, they will taste amazing. You may either chop the garlic or use garlic that has been minced.
Because we'll be preparing a cream sauce for these keto scallops, heavy whipping cream is essential.
You'll also need some spices to season the scallops before they're cooked. Chili powder, salt, and pepper are my particular favorites. When it comes to scallops, I try to keep things simple, so I don't season them with anything extra.
You may serve the scallops with chopped fresh parsley, dill, or green onions once they've finished cooking. Before serving, drizzle some freshly squeezed lemon juice over the scallops.
Scallops: How to Cook Them 
You can start making your keto garlic butter scallops after you've collected all of the necessary components. The first step is to wipe your scallops dry with paper towels before seasoning them. Simply set them on a chopping board to do so. Then, season one side first, turn them over, and season the other.
Then, over medium-high heat, set a pan with the butter in it. You may play the scallops on the griddle after the butter has melted. The idea is to cook them for three minutes on one side without touching them and then turn them over to the other. 
After the scallops have been turned, add the chopped garlic and simmer for another three minutes. Then add the heavy cream, reduce the heat, toss in the scallops, and simmer for a few minutes longer.
Serving Suggestions
You may eat these keto creamy garlic scallops as is if you're in a rush and don't have time to create anything to go with them. Take some keto crackers or tortilla chips instead; they'll go well with the scallops.
Here are some more delicious Serving Suggestions for these low-carb scallops:
Storage Suggestions
If you have any leftover keto scallops, store them in an airtight container or cover the dish in plastic wrap and store it in the refrigerator. Scallops may be stored in this manner for up to 2-3 days. Then, once you're ready to serve them, just reheat the scallops in the microwave with the garlic cream sauce.
However, since these keto scallops are cooked with cream sauce, I wouldn't advocate freezing them. And there's a risk the sauce may crumble once you hurl it.
Recipe
Scallops in a Garlic Cream Sauce on the Keto Diet
This keto scallops dish is the greatest! The golden-brown crust, basic but tasty flavor, and creamy sauce are all excellent on these scallops. It just takes around 15 minutes to create and only requires five essential Ingredients. The nicest thing about this seared scallop dish is that it just has 4 grams of carbohydrates per serving.
Time to prepare: 5 minutes
Time to cook: 10 minutes
15 minutes total
Dinner Courses
International cuisine
2 servings
Calories (kcal): 131
Ingredients  
1x2x3x
scallops (eight)
14 cup melted butter
2 garlic cloves, chopped
a quarter-cup of heavy whipping cream
1 tsp cayenne pepper
season with salt and pepper to taste
garnish with green onions
Instructions 
On both sides, season the scallops with salt, pepper, and chili powder.

Place the butter in a pan over medium-high heat to melt.

Then, without moving the scallops, place them in the skillet and cook for 3 minutes. Cook for 3 minutes longer after flipping the scallops to the other side and adding the chopped garlic.

Cook for a few more minutes after adding the heavy cream.

Serve the scallops straight away, garnished with chopped green onions.
Nutrition
Calories: 131 kilocalories 4 g carbohydrate 2 g protein 12 g fat 7g Saturated Fat 1 gram polyunsaturated fat 3 g monounsaturated fat 45 milligrams of cholesterol 75 milligrams sodium 103 mg potassium 1 gram of fiber 2 g sugar 784 IU Vitamin A 1 milligram of vitamin C 63 mg calcium 1 milligram of iron
Scallops with garlic cream sauce, keto supper
Keto Scallops with Garlic Cream Sauce is a keto-friendly dish that can be made in less than 30 minutes. It's low-carb, gluten-free and delicious. Reference: keto scallops and broccoli.
Frequently Asked Questions
Is scallop good for keto diet?
A: This is a difficult question to answer. The ketogenic diet is known for its high fat, moderate protein and low carb components which would leave you with few vegetables but lots of seafood options. However, its important to keep in mind that different types of seafood vary widely in terms including how they are farmed and their nutritional value within their respective food groups like a scallop being an excellent source of vitamin B12 as well as copper while also containing selenium and omega 3 fatty acids.
What pairs well with scallops?
A: Scallops are delicate and can be paired with many items, including other seafoods. Some things that would go well with scallops include clams and shrimp.
Are scallops carb friendly?
A: Scallops are known to be high in carbohydrates, so they can typically be considered carb friendly.
Related Tags
best sauces for scallops
cream sauce for scallops
keto scallops and zoodles
scallops recipe