A sandwich commonly found on the streets of Havana, Cuba. Cubans are traditionally served with ham or pork, Swiss cheese and pickles in a crusty bread loaf that is grilled in butter before being toasted.
The "traditional cuban sandwich" is a sandwich that features pork, ham, and swiss cheese. The sandwich was first made in Cuba and has since become popular throughout the world.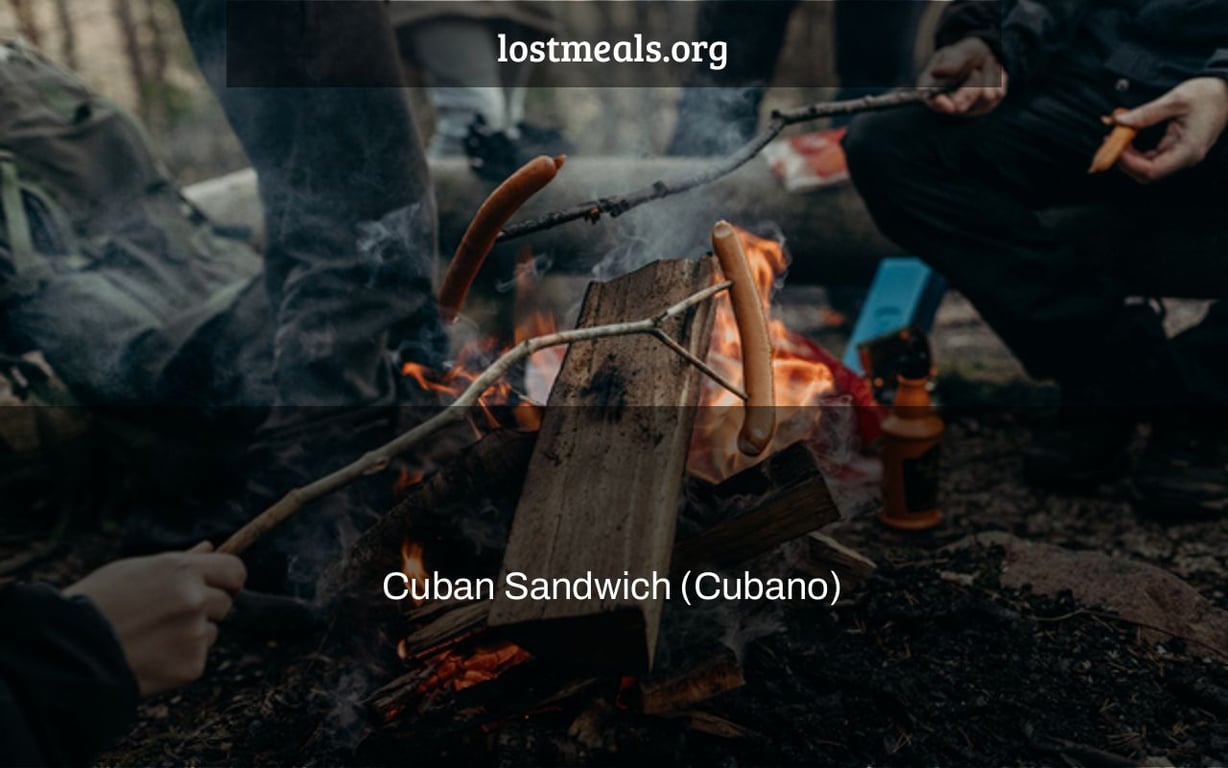 The Cubano, or Cuban sandwich, is without a doubt one of the greatest sandwiches you'll ever have. The Cubano is a sandwich that has it all, with layers of roast pork, ham, Swiss cheese, and sour pickles on soft, delicately sweet bread spread with garlic butter and mustard and topped with layers of roast pork, ham, Swiss cheese, and acidic pickles.
This delectable sandwich is from Cuba, but it's most popular in Florida, where there's a huge and thriving Cuban population. The Cuban sandwich is ideal whether you're looking for a delicious lunch or want to prepare a wonderful feast for friends. Serve it hot or cold, with potato chips and pickles on the side.
Is this a Miami or Tampa Cuban Sandwich?
Despite the fact that Cubanos are very popular in Miami and Tampa, the sandwich is supposed to have originated in Cuba and was carried over by Cuban immigrants. The Miami version of the Cuban sandwich differs somewhat from the Tampa version in that the latter includes salami.
Origins of the Cuban Sandwich
The Cubano is said to have been created by Cuban immigrants. The original versions were sold at Cuban cafés in Florida, which Cuban laborers visited. The tasty sandwich was simple to travel and perfect for staving off hunger at work.
What is Cuban bread, exactly?
Cuban bread is a delicious soft-on-the-inside, crusty-on-the-outside sort of bread. It has a somewhat sweet flavor that complements the other tastes in the Cuban sandwich well. If you can't get your hands on Cuban bread, Italian bread will suffice.
Ingredients in Cubano
To make the ideal Cuban sandwich, you'll need a few key items.
You'll need Cuban bread, which is a soft, somewhat sweet bread that elevates this sandwich to new heights.
Roast pork is also required. Mojo or Pernil are both excellent choices.
The sandwich is completed with smoked ham, Swiss cheese, and pickles.
Garlic butter and mustard provide depth of flavor while also preventing the bread from drying up.
How to Make a Cuban Sandwich (with Pictures)
Begin by preheating your panini press for the finest Cubano you've ever had. Place the sliced side of the bread on the panini press and toast it. Combine the garlic and butter in a small bowl, then spread one-half of the toasted bread with the garlic butter.
On the other side, spread mustard. Layer the cheese on top of the mustard half, followed by a hefty portion of roast pork. Place another layer of Swiss cheese on top, followed by pickles, ham, and cheese. Place the sandwich in your panini press with the second half of the toasted bread on top.
5 to 6 minutes on the grill, or until the cheese melts. Serve with pickles, potato chips, or sweet potato fries.
Is it possible to prepare Cuban sandwiches ahead of time?
Freshly prepared Cubanos provide the greatest flavor. You may, however, prepare the roasted pork up to a few days ahead of time and then assemble the sandwiches when you're ready.
Advice on How to Make the Best Traditional Cuban Sandwich
If you don't eat pork, use chicken instead. It won't be a classic Cubano, but it'll be great anyway!
smoked ham or black forest ham is the finest ham for Cubanos.
Add salami to make a Tampa-style Cuban sandwich.
If you don't have a panini press, don't worry. You may build a makeshift panini press by sandwiching the Cubano between two heavy hot skillets. Wrap the sandwich in foil to help melt the cheese if you're using this approach.
For potlucks, picnics, and other gatherings, you may prepare Cubanos in quantity and cut them into smaller pieces.
With a Cubano, what to serve
Serve your Cuban sandwich with potato chips and dill pickles on the side.
Cuban-style yuca, sweet potatoes, a salad, soup, and beans are among the other delicious sides.
How to Keep Cuban Sandwiches Fresh
Wrap your Cubanos in foil and store them in the fridge for up to one day to keep them fresh.
Ingredients
horizontally sliced Cuban bread
room temperature butter
smashed garlic clove, tiny
thinly sliced Swiss cheese
shredded pork roast, heated
smoked ham or black forest ham
Instructions
Your panini press should be preheated.
Cut side down, toast the bread in the press.
In a small bowl, mash the garlic cloves into the butter. On one side of the toasted bread, spread the garlic butter.
On the other side, spread mustard.
On top of the mustard, layer cheese, then a large amount of pork.
More cheese is layered on top, followed by pickles, ham, and cheese. Glue the sandwich together.
5 to 6 minutes on the grill, or until the cheese melts. Serve.
Notes
If you don't have access to Cuban bread, a traditional Italian loaf will suffice.
You should also try this recipe.
You should also try this recipe.
You should also try this recipe.
The "Cuban Sandwich (Cubano)" is a sandwich that originated in the Caribbean region. It is made with bread, ham, pork, cheese and mustard. The sandwich was originally created to use up leftover ingredients after the main meal. Reference: cuban sandwich recipe chef.
Frequently Asked Questions
Is a Cuban sandwich the same as a Cubano?
A: The difference is that a Cuban sandwich includes ham, salami, and pork in addition to the cheese.
What is a Cubano sandwich made of?
A: A cubano made with a long loaf of pressed Cuban bread is typically filled with ham, roast pork shoulder or beef, and Swiss cheese.
What is a true Cuban?
A: A Cuban is a person of Latin American descent who was born in Cuba.
Related Tags
famous cuban sandwich
miami cuban sandwich recipe
easy cuban sandwich
best cuban sandwich recipe
cuban sandwich bread