Next time you're looking for a sweet treat to share, consider this delectable chocolate banana truffle recipe. This dessert is foolproof and delicious. You might want to make two batches of these so that you can enjoy one yourself!
If you're looking for a healthy banana truffle recipe, this is the one. The chocolate and banana are combined to make a decadent dessert that will be loved by all. Read more in detail here: healthy banana truffles.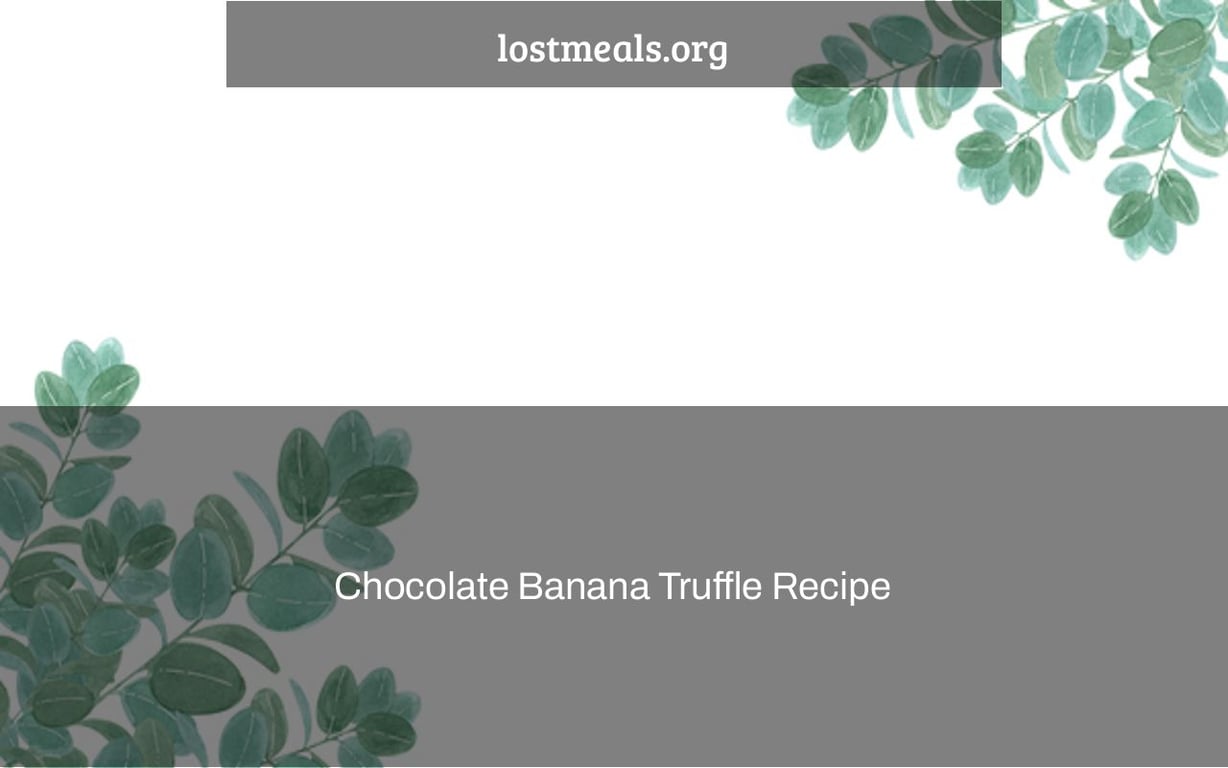 In this dish, rich chocolate truffles are given a somewhat healthier makeover. Instead of heavy cream, these Chocolate Banana Truffles are prepared using creamy bananas, which provide all of the richness without the calories. This simple, bite-sized delicacy features a smooth, silky outside and a creamy inside.
It simply takes three things to prepare it: biscuits, ripe bananas, and chocolate. Simply combine the Ingredients in a blender, drizzle with melted chocolate, and set aside. These are also ideal for youngsters since they don't use heavy cream and instead use nutritious bananas. These delicious, chocolaty nibbles are sure to please. By the way, they also make excellent presents.
Ingredients for Chocolate Banana Truffles
Use any of your favorite biscuits that aren't filled with anything.
Use ripe bananas since they are sweeter than unripe bananas, which is ideal for these truffles.
Use high-quality dark chocolate (at least 70%) and white chocolate for this recipe.
Banana Truffles: How To Make Them
This dish is quick and easy to prepare. Begin by smashing the biscuits in a blender until they are a fine crumb. Blend in the banana chunks until the mixture comes together again.
To measure out tiny portions of the mixture, use your hands, an ice cream scoop, or a melon baller. Drizzle with chocolate after rolling into balls. Allow to cool and then enjoy!
Tips
To make sure the truffles are of the same size, scoop the mixture using a tiny ice cream scoop or melon baller.
If you live in a hot climate, you may need to chill the truffles for 1-2 hours before they firm up.
Mix 6 oz chocolate, 14 cup condensed milk, and 1/3 cup mashed banana together to make it sweeter.
To coat the truffles in melted chocolate, dip and flip them in the coating with two forks.
Variations on Banana Truffles
Dip the banana truffles in melted white chocolate instead of a white chocolate drizzle.
Vanilla wafers, Oreos, and graham crackers are some of the biscuit options.
Use almond flour instead of crushed biscuits for a healthier option.
You may add a spoonful of smooth peanut butter to the filling if you prefer the combination of chocolate and peanut butter. You may also use peanut butter to replace all of the biscuits.
Dip the truffles in white chocolate, drizzle with dark chocolate, then top with rainbow sprinkles to create banana split truffles. Serve with a glazed cherry on top.
Blend together 1 box Oreos, 8 oz cream cheese, 1 tsp banana essence, and 1/3 cup mashed ripe banana to produce a cream cheese variation. Dip in chocolate and serve.
Chocolate Banana Truffles: How to Store Them
For up to 5 days, keep the banana truffles in an airtight container.
Ingredients
bananas, ripe and roughly cut
Instructions
Step 1
Step 1
In a blender, combine the biscuits and bananas.
Step 2
Step 2
In a blender, combine the biscuits and bananas.
Blend the ingredients until it is completely smooth.
Step 3
Step 3
Make tiny balls using your hands.
Step 4
Step 4
Blend the ingredients until it is completely smooth.
Drizzle chocolate over the balls and place them in miniature truffle containers.
Step 5
Step 5
Garnish with melted white chocolate. Allow it to cool in the refrigerator for a few minutes before serving.
Related Tags
truffle recipes
prosecco truffle recipe
banana truffle strain
banana flavored chocolate recipe
gourmet chocolate truffle recipe