There are many ways to make soup, but this particular recipe is one of the simplest. It's a simple blend of spices that creates an amazing flavour and can be used with many different ingredients for variation. The best part about it? If you love chickpeas, it will cost very little in terms of time or money.,
The "easy chickpea soup recipe" is a delicious and easy recipe. It's also gluten-free, vegetarian, vegan, and healthy.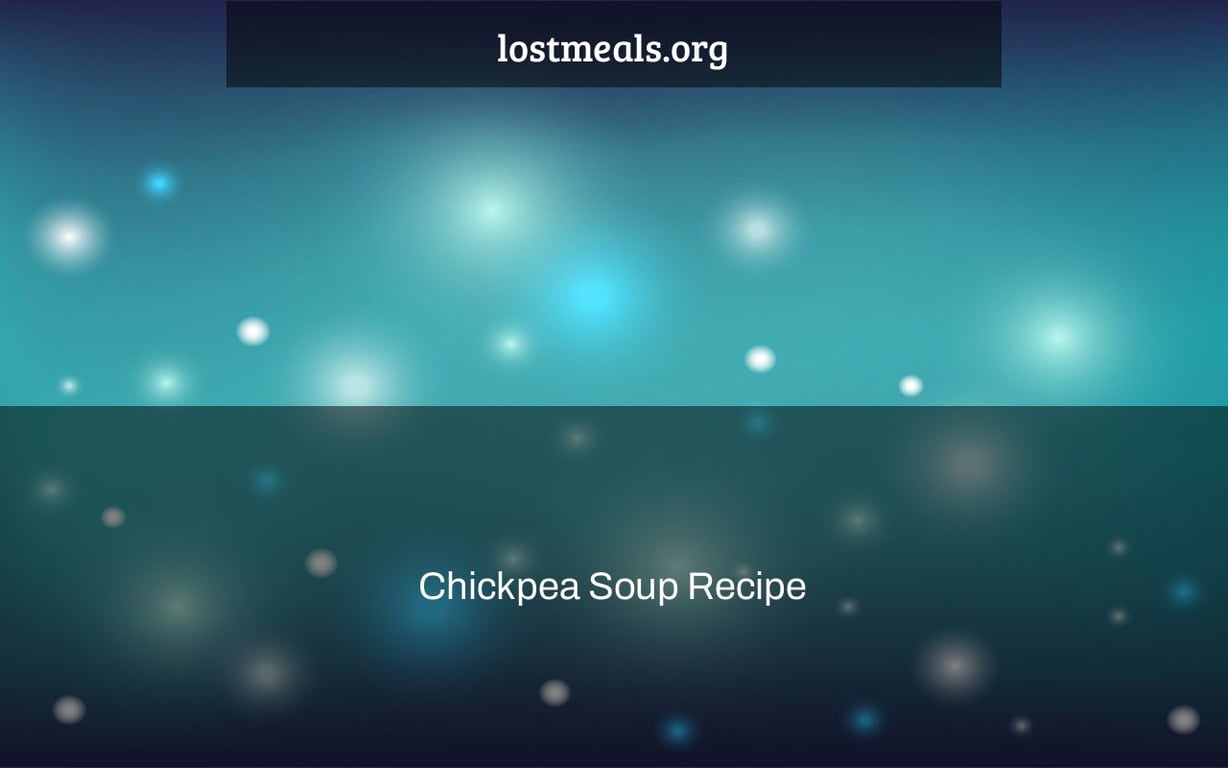 Chickpea soup is a hearty Italian-style comfort food, perfect for pampering yourself during a cold fall or winter evening. This invigorating, vegetarian dish has a savory Mediterranean flavor, which has the power to warm body and heart.
Easy to make, it is prepared with simple and genuine ingredients. The main ingredient of the dish are obviously the chickpeas, legumes rich in vegetable proteins, fibers and precious micronutrients.
For a perfect soup recipe, we recommend using dried chickpeas and soaking them from the previous evening, then boiling them in water until they are soft, in this way they will also be much more digestible. Flavor chickpeas with a base of oil and aromatic herbs, cover with the hot homemade vegetable broth and continue cooking until the soup is creamy and well blended.
Once ready, transfer it to individual bowls, complete with a drizzle of oil and serve this hearty soup with croutons, or slices of fresh bread. You can also make it in advance and enjoy it the next day, resting will further intensify its flavors and aroma.
Serving Suggestions for Hearty Chickpea Soup
This chickpea soup goes well with croutons, toasted bread slices, or focaccia bread. Serve it with a simple side dish like a tossed salad to round out your meal.
Soup with Chickpeas from the Mediterranean
You can also add a handful of pasta or rice and, for a more full-bodied main dish, complete with grated Parmesan cheese or strips of bacon, toasted in a pan.
Chickpeas from the shop may also be used. Replace the vegetable broth with hot water and choose those kept in glass jars.
Add your preferred spices, a few tablespoons of tomato puree, and some kale leaves to create a Moroccan-style chickpea soup.
Add the juice of two lemons to make a Greek-style chickpea soup.
You may thicken your soup by adding a big cooked and pureed potato.
Crisp bacon slices may be added to a savory chickpea soup.
For an even more tasty result, you can blend a part of the chickpea soup with an immersion mixer and then reunite it with the other part of the soup.
Chickpea Soup: How to Store It
The chickpea soup can be stored in the refrigerator, in a special airtight container, for 1-2 days. You can also freeze it.
Chickpea Soup: How to Make It
In a dish, combine the chickpeas, cover with cold water (1), and soak overnight.
Drain them the following day, rinse them well, and boil them in a pan, beginning with cold water (2).
Drain (3) and put aside after done.
Prepare the soup; clean the celery and carrot; wash the onion thoroughly but do not peel it, since the skin will release its color and turn the broth golden. Fill a big saucepan halfway with cold water and add the fragrant herbs (4).
Add a teaspoon of salt to the mixture (5).
Add the cherry tomatoes as well, then turn the heat up to high and simmer for around 60 minutes, beginning from the boiling point (6).
Cut the leek into thin slices after cleaning it (7).
Clean the celery and finely cut it (8).
Peel, trim, and chop the carrot into tiny pieces (9).
Peel and finely slice the onion (10).
In a pot, spray a little oil, then add the leek (11) and brown it gently.
Add the other veggies and cook for a few minutes to flavor them (12).
Pour a little hot broth (13) over the veggies and simmer until they are tender. Salt & pepper to taste.
Add the chickpeas that have already been cooked (14).
Add a sprig of rosemary for extra flavor (15).
Pour the broth over the top (16).
Cook for another 25 minutes, or until the soup is soft and well blended in any case (17). If you want it creamier, take a cup of the soup and blend it with an immersion mixer before mixing it in with the rest.
Serve the soup in separate bowls with a drizzle of raw oil drizzled on top (18).
Watch This Video-
This recipe is a classic Moroccan dish that uses chickpeas as the main ingredient. It's easy to make and has a nice, thick consistency. You can top it with fresh parsley or mint for an extra burst of flavor. Reference: chickpea soup moroccan.
Frequently Asked Questions
Is chickpea soup good for you?
A: Chickpea soup is good for you.
Can you cook chickpeas in broth?
A: Yes.
How do you add flavor to canned chickpeas?
A: You must first rinse them in cold water. Then you should soak them overnight before cooking to rid the skins of all salt and preservatives, as well as to get out any remaining germs that may have been on the can when it was processed. Once theyve soaked overnight, drain and place them in a pot with boiling salted water for about 10 minutes or until soft enough that their shape is slightly visible through your spoons mouthpiece. Drain again and add spices like cumin seeds, coriander powder and hot paprika (totally optional).
Related Tags
canned chickpea soup recipes
chickpea soup recipe greek
chickpea soup italian
chickpea soup indian
mediterranean chickpea soup