Caramelized onions are one of the most popular recipes in restaurants, because they add a sweet and savory flavor that complements many dishes.
This is a recipe for Pioneer Woman's Caramelized Onion Dip. It's easy and delicious!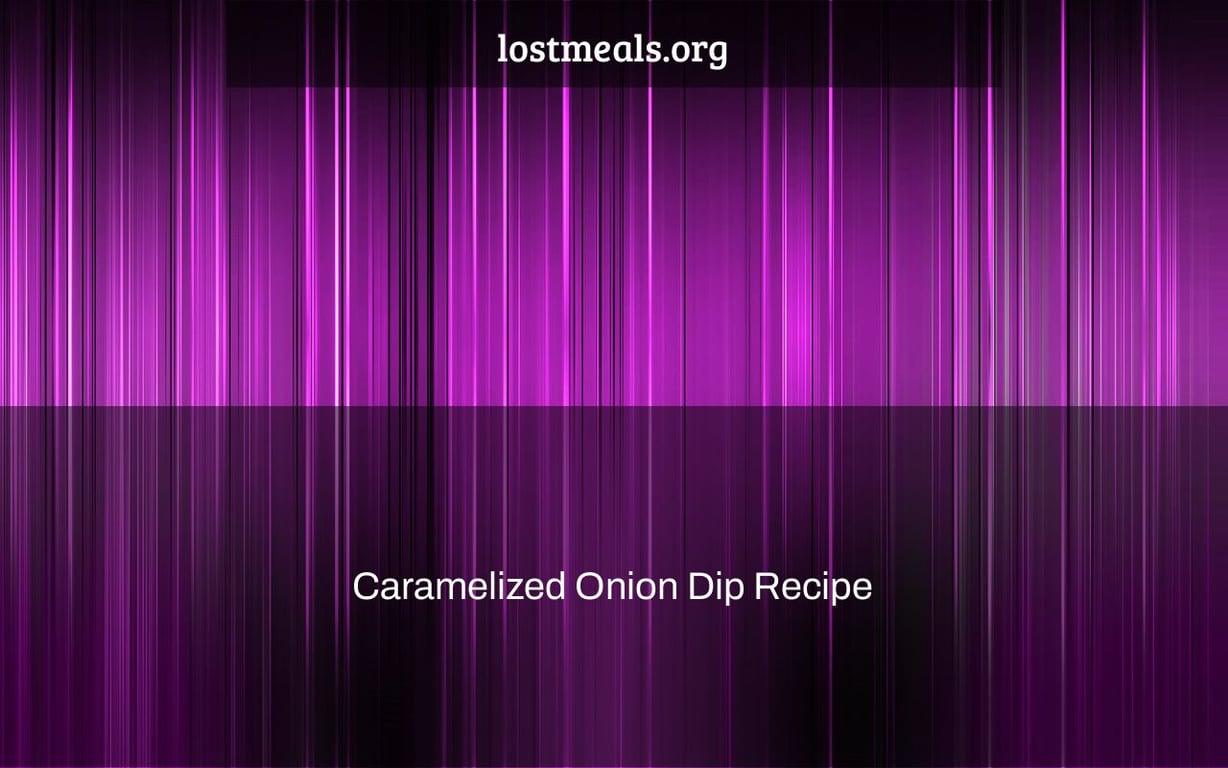 Caramelized onion dip is an excellent party dip to offer at any get-together with friends and family. This easy dip recipe uses delectable caramelized onions, sour cream, cream cheese, and wine, and it's a million times better than anything you'll find in a shop — even Trader Joe's!
This is without a doubt the greatest dip with caramelized onions, thanks to its rich, creamy texture and savory, acidic, and subtly sweet flavor.
How to Make Homemade Caramelized Onion Dip
You'll enjoy how simple it is to prepare this delicious caramelized onion dip. It's not time-consuming, but you'll need to keep an eye on the onions while they caramelize. Are you ready to begin? This is how to create the finest caramelized onion dip you've ever had. In a pan, melt the butter and sauté the onions. Season the onions with salt and sugar and simmer, turning periodically, for 10 to 15 minutes.
Pour a little amount of wine into the pan, let it burn off, and continue until all of the wine has been used and the onions are a deep golden brown color. Remove the onions from the skillet and finely chop them. Combine them with the sour cream and cream cheese in a mixing basin. Stir with a dab of Worcestershire sauce, then top with parsley and serve with a choice of dipping foods!
Is it possible to make the caramelized onion dip ahead of time?
You can absolutely create your caramelized onion dip ahead of time if you're throwing a big party. You may prepare it up to a day ahead of time.
Tips for Making the Best Caramelized Onion Dip
This dish may be made with any sort of onion, whether red, white, or yellow. You could even combine all three ideas!
Swap Worcestershire sauce for soy sauce for a wonderful variation on caramelized onion dip. Soy sauce gives this dip a savory, salty depth of flavor that's impossible to ignore.
A dry white wine, such as Sauvignon Blanc or Pinot Grigio, is ideal. You may substitute grape juice or even water for wine if you don't want to use it.
Half the sour cream or cream cheese may be replaced with mayonnaise or Greek yogurt for a lighter but equally rich dip.
You may sauté your onions in an Instant Pot to speed up the caramelization process and reduce cooking time.
Use vegan sour cream and vegan mayonnaise instead of traditional sour cream and cream cheese to create vegan caramelized onion dip.
Serving Suggestions for Caramelized Onion Dip
Serve with potato chips, pita chips, crostini, breadsticks, chopped fresh greens like celery and carrots, pretzels, crackers, or tortilla chips to accompany your homemade caramelized onion dip.
It's also a terrific addition to sandwiches and burgers!
Caramelized Onion Dip: How to Store It
Refrigerate your onion dip for 3 to 4 days in an airtight container.
Instructions
In a skillet, melt the butter. Season the onions with salt and sugar in the skillet. Cook, stirring occasionally, for 10 to 15 minutes.
Allow approximately 1 tablespoon of wine to boil down before adding more. Repeat until all of the wine has been consumed. The onions should be caramelized after 30 minutes of cooking.
Remove the onions from the pan and place them on a chopping board after they have caramelized. Cut them into little pieces and place them in a basin.
Stir in the sour cream and cream cheese until everything is well combined. Stir in a dab of Worcestershire sauce, then serve with parsley on top.
Notes
You may use unsalted butter instead of salted butter. If you do, be sure to season the dip with an additional pinch of salt.
Watch This Video-
The "creamy caramelized onion dip" is a delicious recipe that will make your mouth water. This recipe requires only six ingredients and takes about 30 minutes to prepare.
Frequently Asked Questions
How does Ina Garten caramelize onions?
A: To caramelize an onion, melt some butter over medium heat in a large saucepan. Add the onions and cook until they are soft but not browned (about 3-4 minutes).
Whats the secret to caramelizing onions?
A: The secret to caramelizing onions is cooking them at a low temperature for a long period of time. As the onion cooks, it produces sugar and an intense flavor. To do this you should either remove any top layer or cut random chunks off until you have reached your desired crispiness.
What is caramelized onion dip made of?
A: Caramelized onion dip is made of onions, mayonnaise or Miracle Whip, sour cream, salt and pepper.
Related Tags
omg caramelized onion dip recipe
caramelized onion dip food network
caramelized onion dip vegan
caramelized onion dip greek yogurt
caramelized onion dip with mayo