Alfredo sauce is a creamy, white cheese sauce traditionally made with Parmesan and Romano cheeses. This rich and delicious recipe comes together in just minutes for an easy weeknight dinner that your family will love.
The "alfredo sauce recipe without heavy cream" is a popular dish that is often found in restaurants. The basic ingredients for the dish are just garlic, olive oil, and butter.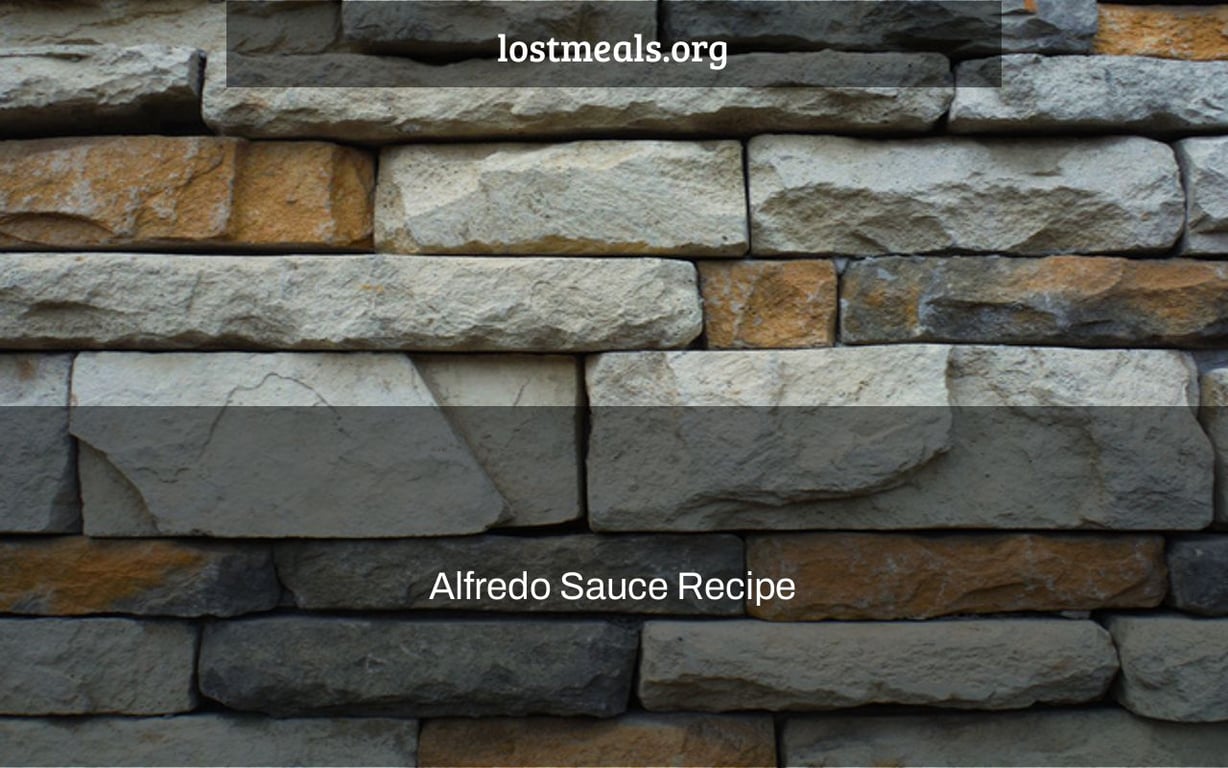 There's nothing like biting into pasta slathered in homemade alfredo sauce for its rich, creamy texture and wonderfully cheesy, garlicky taste. This delectable white sauce is often served with fettuccine and other noodle pastas.
The beauty of alfredo sauce is that it just requires seven ingredients and can be prepared quickly. You'll never purchase jars of alfredo sauce again after you've created your own — this quick alfredo recipe just takes around five minutes to prepare!
For optimal convenience, prepare it a day or two ahead of time — ideal for hectic weeknights when you want a nice homecooked supper but don't have much time.
What is Alfredo Sauce, and how does it differ from other sauces?
The original white sauce fettuccine alfredo is created with garlic, parmesan cheese, butter, cream, and a few spices. The sauce is from Lazio and is called after Alfredo di Lelio, who notably served it at his Rome restaurant during the first part of the twentieth century. Pasta, parmesan, and butter were used to make the first fettuccine alfredo. In the United States, extra ingredients such as cream or milk were added to fettuccine alfredo. It is still a very popular dish in most Italian restaurants in the United States.
Ingredients for Fettuccine Alfredo Sauce
Heavy whipped cream, butter, and parmesan cheese give Alfredo sauce its richness. A pinch of salt and pepper, as well as a splash of Italian spice, enhance flavor. You may add additional ingredients to your sauce if you want to make it more interesting, but these are the essentials.
Alfredo Sauce: A Step-by-Step Guide
Ready to create a beautiful, creamy alfredo sauce in under five minutes? Here's what you should do! Begin by bringing the butter and heavy cream to a gentle simmer on the stove. Stir in the garlic, salt, Italian seasoning, and pepper for approximately a minute while slowly stirring the sauce. Continue to whisk in the parmesan cheese until it melts into the cream mixture. Serve the sauce over your favorite pasta.
Making the Best Homemade Alfredo Sauce from Scratch Tips
There are 2 cups of alfredo sauce in this recipe.
Alfredo sauce is gluten-free and keto-friendly by nature. Use grass-fed butter to make it keto-friendly.
If you don't have heavy cream on hand, milk may be used instead, but the sauce will not be as thick or creamy.
If the sauce isn't thickening, continue to simmer it down over a low burner. If it doesn't work, you may add a little flour or a cornstarch slurry to get the thickness you want.
Alternatively, for an ultra-rich, thick alfredo sauce, combine milk and cream.
Instead of parmesan and heavy whipping cream, use a vegan cheese replacement and vegan whipped cream to create a dairy-free Alfredo sauce.
You may use other varieties of cheese instead of parmesan if you don't want to use parmesan.
What Can You Do With Alfredo Sauce?
Traditionally, Alfredo sauce is served with fettuccine or other long noodles. You may make the meal more heartier by adding protein. Popular alternatives include chicken, salmon, shrimp, mushrooms, chopped vegetables, and bacon. Fettuccine alfredo goes well with roasted vegetables, garlic bread, sautéed spinach, green salads, and mashed potatoes, no matter how you serve it.
Variations on Alfredo Sauce
Once you've mastered conventional alfredo sauce, consider experimenting with other flavors. Fresh herbs, such as basil, parsley, or sage, may be added. Replace the parmesan with a different sort of cheese or add a sprinkle of red chili flakes to make it spicy. Pecorino, cheddar, mozzarella, or gouda are all wonderful cheeses to use.
How to Keep Alfredo Sauce Fresh
Keep alfredo sauce in an airtight jar in the fridge for up to four to five days. Reheat it over a low temperature, stirring often, until the sauce is well heated.
Is Alfredo Sauce Freezable?
Alfredo sauce does not freeze well since it is largely comprised of cream and cheese. It's ideal to eat homemade alfredo sauce the same night you make it, or within a few days after making it.
Instructions
Over low heat, bring the butter and cream to a gentle simmer.
Combine the garlic, salt, pepper, and Italian seasoning in a mixing bowl. To mix, whisk for one minute.
Stir in the parmesan cheese until it melts.
Toss with the spaghetti and serve.
Alfredo sauce is a creamy, rich, and flavorful sauce that is usually served with pasta. The recipe calls for heavy cream which makes the sauce more luxurious. Reference: alfredo sauce recipe with heavy cream.
Frequently Asked Questions
What is traditional Alfredo sauce made of?
A: Alfredo sauce typically uses butter, cream, Parmesan cheese and flour.
What is Olive Garden Alfredo sauce made of?
A: Olive Garden Alfredo sauce is a cheese, cream and butter based sauce made in the United States by Kraft Foods.
What can I substitute for cream in Alfredo sauce?
A: Substitute for cream in Alfredo sauce is half-and-half.
Related Tags
alfredo sauce recipe with milk
chicken alfredo sauce recipe
alfredo sauce recipe with cream cheese
authentic alfredo sauce
cajun alfredo sauce recipe